Torn meniscus (Meniscus tear)
Before surgery :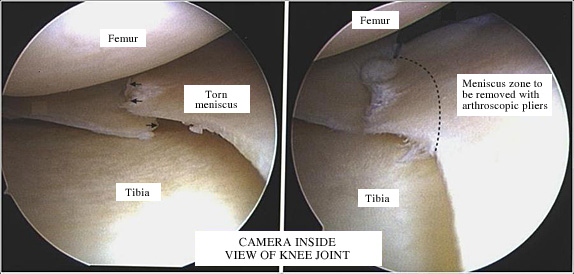 The meniscus is a kind of crescent shaped piece of cartilage acting as a cushion in the knee. There are two menisci in a knee. The main feature of a meniscus is that it is hard to heal, which explains the frequency of this type of surgery.
The patient suffers from the classical symptom of pain inside the knee that starts or gets worse from squatting position.
A scan or MRI (Magnetic resonance Imaging) must confirm the tear which is invisible on a simple radiography.
The usual evolution of a meniscus tear is progressive aggravation with l ocking of the knee on bending.
During surgery :
The procedure lasts about ½ an hour under arthroscopy; only the torn zone of the meniscus is removed with specific pliers, the rest of the meniscus is kept
Torn meniscus : video of operation
After surgery :
Resuming walking is possible without a splint on the day after the operation, on crutches for about a fortnight.
1 to 4 week sick leave (UK Statutory Sick Pay) is useful according to professional activities.
Latest breakthroughs :
Some exceptional meniscus tears leave the possibility of arthroscopic suture repair, namely a genuine repair with the help of a microclip that resorbs after playing its role.